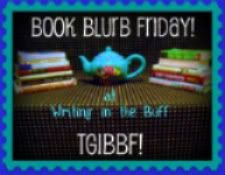 The lovely Lisa at
Writing in the Buff
hosts Book Blurb Friday. Each week Lisa posts a pretend book cover to fire our imaginations. Our task is to write the book blurb for the back cover in 150 words or less.
Bold as Brass


The greatest punishment in the land of Herasia, is to be turned to bronze and then be exiled to a distant dimension for a lifetime as a garden ornament.

The wizard Tarren Wherry controls one of the two portals from Herasia and he sells the exiled bronze statues in a fashionable New York boutique. He has just taken delivery of a motley collection of criminals, amongst them the notorious Babyface Tarik, the Gold Pan Twins, the giant Hergan and the tiny Father Twee, when he learns that Herasia has been taken over by Karack, the wizard controlling the other Herasian portal, aided by the very criminals he was meant to be guarding.

His home, his family and his future are at stake, but Tarren cannot save Heresia alone. He must decide whether to use the golden horn to restore his new prisoners, but would they help him if he did?


150 words.
I have really enjoyed writing here again, which is a great relief! I will ease myself back slowly. I will be spending Friday and Saturday refurbishing our shower (including replacing all the tile grout and sealant), but I hope to be back for Succinctly Yours on Monday.