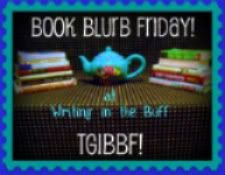 The lovely Lisa at
Writing in the Buff
hosts Book Blurb Friday. Each week Lisa posts a pretend book cover to fire our imaginations. Our task is to write the book blurb for the back cover in 150 words or less.
Going Away


Where do werewolves, witches and warlocks go for a holiday?

The Hotel Candice is a rather run-down, unassuming building, sandwiched between tall office blocks. No-one gives it a second glance, unless they have the Sight. The check-in girl is an amnesiac vampire and the chef has to keep checking he's all there. The resident ghost (gender unknown) plays the piano in the evenings and the bar tender spends his time brewing potions in the cellar.

However, the hotel boasts the only working (most of the time) portal to Fungaria, a paradise for the paranormal and it's fully booked. When the Fungarian goblin police arrive claiming that one of the guests has stolen the irreplaceable Heart of the Medusa, Manager Colly Buckworth must solve the mystery before the hotel is laid waste by the goblin armies.

And on top of everything, it's his time of the month ...



148 words.
Come and join in!
Writing in the Buff
Scroll down for my Second Crusader Challenge