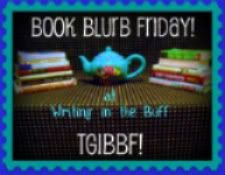 The lovely Lisa at
Writing in the Buff
hosts Book Blurb Friday. Each week Lisa posts a pretend book cover to fire our imaginations. Our task is to write the book blurb for the back cover in 150 words or less.
The Last Geranium


On a crisp, clear night the skies over London are illuminated by eerie flashes and aurora-like pulses. Many believe them to be a son et lumiere show, until a mini-nova sears the heavens and devastates the city below. The discovery of an dying alien in an escape pod promises unprecedented technological advances, provided humanity can heal it.

In a race against time Derry Calahan, leader of a disparate group of the world's leading scientists, learns to harness the alien database and finds that a cure may be found in the humble geranium. Unfortunately a mysterious blight has been decimating the world's angiosperms for years. Particularly hard hit has been the Cranesbill family, and geraniums seem to be all but extinct.

Derry must protect his charge from the foe that hunts it, a foe that seems to be altering the past, and somehow he must find the last geranium.


148 words.