Happy Fathers Day!
I'm not sure if it is Fathers Day anywhere other than the UK, but hey, Happy Fathers Day anyway!
It was my privilege to preach on the subject today, so I thought I would share it with you.
Today we are celebrating fatherhood, and in particular the ultimate role model for us dads, the one after whom we are named – God, our father in heaven.
But before I start I want to say one thing. Chambers dictionary defines a father as "a male parent". Of course it does – what else would a father be? But when you think about it, why should the role of father, or the role of mother for that matter, be in any way tied to a person's gender, apart from the "minor" issues of child birth and suckling that is?! In practice BOTH parents are called upon to fulfil the role of father on occasions and the role of mother at others. So we are thinking today about the role of a father rather than their gender and God therefore is a role model for ALL of us who have responsibility for nurturing others.
Now, I am sure you have all seen the posters, fridge magnets and greetings cards which say "any man can be a father but it takes a special person to be a dad". So I'm going to talk about God being "Dad". After all, that's what Jesus called him – Abba – it means dad. God is "dad" to us too, as Paul wrote to the Romans and told them "
you received the Spirit of sonship. And by him we cry, Abba, Father.
"
So how is God "dad" to us?
In the words of the psalmist (Psalm 46): "
God is our refuge and strength, an ever-present help in trouble. Therefore we will not fear, though the earth give way and the mountains fall into the heart of the sea, though its waters roar and foam and the mountains quake with their surging."
God is an ever-present help in trouble.
Again the psalmist tells us (Psalm 18): "
The LORD is my rock, my fortress and my deliverer; my God is my rock, in whom I take refuge. He is my shield and the horn of my salvation, my stronghold.
"
God does not promise that nothing bad will ever happen to us, he does not wrap us in cotton wool, but he does promise that when things are tough he will deliver us, that he will be that place of refuge, and that he will care for us. We cannot keep our children from hurt, however much we might want to, and through the knocks and the scrapes, the heartache and the disappointments, we can be "dad" by being there for them, by being dependable, loyal and understanding – an ever present help in trouble.
Our heavenly dad provides for us. As Jesus told the crowds in the sermon on the mount, and I use the New Living Translation here, "
Your heavenly Father already knows all your needs, and he will give you all you need from day to day if you live for him and make the Kingdom of God your primary concern.
"
Jesus went on to tell the crowds "
Ask and it will be given to you; seek and you will find; knock and the door will be opened to you. Which of you, if his son asks for bread, will give him a stone? Or if he asks for a fish, will give him a snake? If you, then, though you are evil, know how to give good gifts to your children, how much more will your Father in heaven give good gifts to those who ask him!
"
As fathers we don't give our children everything they want – that just spoils them, but we do seek to give them everything they need, whatever the cost to ourselves. And do we not desire to give our children good gifts?
Then there is our dad the teacher, and what a wealth of teaching, advice, guidance and rules of life he has given us. There is the huge wisdom in the bible, there is the teaching and example of Jesus, and there is the Holy Spirit who guides us - as Jesus tells us, "
the Spirit of Truth who goes out from the Father will guide us into all truth
". With all that guidance, how can we possibly go wrong?! But we do don't we?
And so we need discipline. The word has become synonymous with punishment, but in fact it means self control, it means doing the right thing at the right time, whether we feel like it or not. With great patience and understanding, God steers us towards the right path.
But does he punish us? Take the story of the prodigal son. He sins against his father by demanding his inheritance ahead of time, and he sins again by squandering that inheritance. Don't we do exactly the same?
In the story the son suffers the consequence of his actions, and that in itself is a punishment. Those consequences make him come to his senses and bring him back to his father. Does his father punish him? No, instead he runs to greet him, hugs him and throws his cloak around his shoulders. The young man has suffered enough.
As dads we have a huge responsibility to teach our children not only how to live and thrive in this modern society, but also how to do so with honour and integrity, with compassion and tolerance and to reach them that in God can be found true joy and peace. And when they drive us up the wall with their disobedience, we need to remember that God is slow to anger and quick to bless.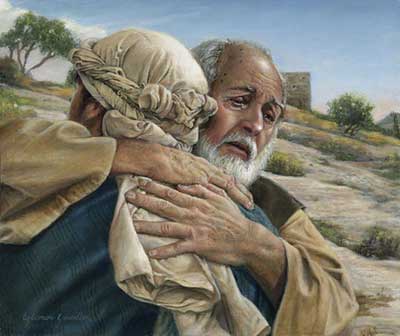 Finally, the most important characteristic of our heavenly dad is his love for us. He loves us so much that when we were still far off in our sinful ways, like the prodigal son, he ran to meet us in his son Jesus, to welcome us home, and to make us his children. In Jesus' death and in his resurrection, he declares God's love for us and reconciles us with him forever.
So what are the qualities of a dad? Compassion, dependability, loyalty, generosity, wisdom, understanding; but suffused through all of them is love.