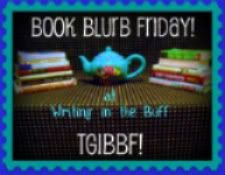 The lovely Lisa at
Writing in the Buff
hosts Book Blurb Friday. Each week Lisa posts a pretend book cover to fire our imaginations. Our task is to write the book blurb for the back cover in 150 words or less.

"Give her a chance, mother!"
"She is mortal, you are forbidden to see her again."
"What are you going to do, rain at me?"

Now his words are coming back to haunt Kairos.
Ever since he stormed out of Olympus, his earthly home has been racked by torrential rain, and the mayhem is spreading. Should he tell his young love, Cassandra, that his mother is really Iris, the Goddess of Rain?

But his mother's wrath is the least of his worries. Under cover of the chaos, someone is waking the enemies of the Gods. Kai must find a way to stop them before the Gigantes walk the earth again, but he is fast losing his immortal powers. Kai faces a desperate choice: return to immortality, save humanity, or embrace love as a human. But Cassandra has a few surprises of her own and Kai is soon running to keep up...


150 words exactly
Better late than never!
I managed to borrow a computer with a mouse - so at least I could fix my post!!