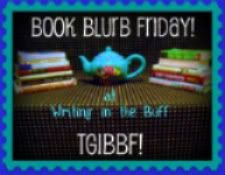 The lovely Lisa at
Writing in the Buff
hosts Book Blurb Friday. Each week Lisa posts a pretend book cover to fire our imaginations. Our task is to write the book blurb for the back cover in 150 words or less.
Bolt from the Blue


The Portuguese government thought they were on to a winner, selling off the town of Castelo de Sonhos to the Alpha Centaurians in order to clear the national debt.

Unfortunately they forgot to exclude the citizens.

When Carlos de Manuez woke after a particularly vivid dream of being sucked down a plughole, he found the sky was orange and sported three suns. Worse, the streets were full of blue tourists.

Then he met an unpronounceable girl and his life changed. She was beautiful, azure and slightly over-endowed with limbs. With the aid of an over-stressed translator, she told a horrified Carlos the truth about the Centaurians.

What can Carlos and the unpronounceable girl do in the face of her compatriots' evil plans? Getting a better translator might help; so would learning eleven dimensional mathematics. Unfortunately they have just six days.

Assuming the translator got that bit right.


147 words.