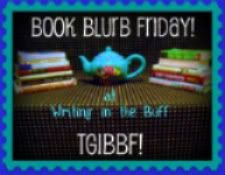 The lovely Lisa at
Writing in the Buff
hosts Book Blurb Friday. Each week Lisa posts a pretend book cover to fire our imaginations. Our task is to write the book blurb for the back cover in 150 words or less.
Stonework


Bert Entwhisle, proprietor of Entwhistle's Curiosity Emporium, has a tongue smoother than silk and sweeter than honey. No woman, it seems, is immune from his charms. Harpies gather his wares from the four corners of the world, Medusa delivers a nice a line in garden ornaments, and Sibyl gives him betting tips. With sirens behind the counter, the Emporium has never been busier and the Sphinx's riddle book is a run-away success.

Then it all goes horribly wrong when Medusa accidentally turns the King's favourite daughter to stone. The King wants to kill Medusa, which is understandable and one way of restoring the princess. Unfortunately he also wants to execute Bert.

Bert is going to have to sweet talk like never before to find a less drastic cure and save his own skin; a quest that looks set for the one place he really doesn't want to go.


148 words.