First of all - apologies for my slightly unexpected absence. I'll share more on that tomorrow.
Thank you to those of you who were concerned.
Now, on with the show ...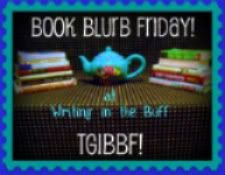 The lovely Lisa at
Writing in the Buff
hosts Book Blurb Friday. Each week Lisa posts a pretend book cover to fire our imaginations. Our task is to write the book blurb for the back cover in 150 words or less.
Life Blood


Every millennium, a single drop of the Goddess's blood falls to the ground, and from it, grows one blood red bloom that will grant it's finder a thousand years of immortality.

Now, deep in the Kellmar Forest, the bloom summons the favoured few who are sensitive to its sweet call, but they must hurry; the bloom will wither in just seven days.

Amuk wants a cure for his dying sister

Jorran wants fabulous wealth

Maya wants to find true love

King Varik wants to conquer the world

Kari just wants to be happy.

Kellmar Forest is a dark and forbidding place that threatens to destroy them all, unless they can learn to work together. Who will achieve their heart's desire? What is the secret that will change everything?


128 words.
... and yes, I do know what the secret is, and who it is that achieves their heart's desire!
Come and join in!
Writing in the Buff