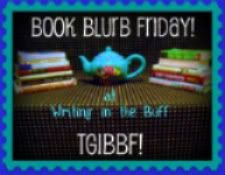 The lovely Lisa at
Writing in the Buff
hosts Book Blurb Friday. Each week Lisa posts a pretend book cover to fire our imaginations. Our task is to write the book blurb for the back cover in 150 words or less.

When Cassie Drewe starts to decorate her dingy Victorian attic flat in Shoreditch, she is astonished to find a dusty old typewriter in a forgotten space, hidden behind decades of wallpaper.

She hadn't meant to write a story, but as her fingers stroke the keys, it springs to life unbidden. Word by word it draws her in, grips her, demands to be written. In breathless excitement, she types the struggle of a young man caught in a clash between modern London and the demonic secret in the ancient heart of the city.

Listening to the news the next day, she is shocked to find it is all true. If her own, half written, story is to be believed, London is on the very brink of annihilation. Should she carry on typing, or enter the story and find the young man?

Write or be written?

London's future is in her hands.


150 words exactly