Sensational Haiku Wednesday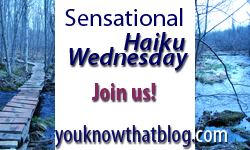 You know ... that Blog?
Today's topic is
Fantasy
You would think, as a fantasy writer, I would jump at the chance to immerse myself in the fantasy of swords and sorcery ... but instead my thoughts have turned to today's society and real life fantasies (as opposed to fictional fantasy?).
Three fantasies ...


Seventeen years old
Seven months behind the wheel
Now invincible




Lottery ticket
One chance in ten million
Each week a new dream




Replace poverty
with our standard of living
The world has enough