Today we will be looking at ...
Spans
Let's get some building terms straight.
Here is a typical roof (terms are UK of course)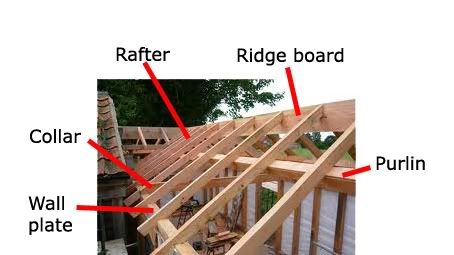 The slates or tiles are nailed to battens which run from side to side and are nailed to the rafters. The rafters run from the wall plate at the bottom, to the ridge board at the top. The ridge board does not carry any weight. The rafters are supported by the purlin which spans between trusses or between gable ends.
Here is a nice example of a king post truss supporting two rows of purlins
I tell you all this in case you ever want to avoid using the generic fudge of "roof beams" to mean any bit of timber up in the roof!
Joists are "beams" which are laid horizontally to support the floor (floor joists) or ceilings (ceiling joists). I know, complicated names huh?!
The beam which supports the wall above windows or doors is called a lintel.
Here is something interesting. If you halve the
width
of a beam, it is half as strong and twice as bouncy. (technical term of course!). If you halve the
depth
of the beam it is only one quarter as strong and eight times as bouncy!
So - on to arches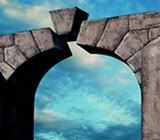 The picture above shows us two things. First it helps us imagine what would happen if the keystone - the critical locking piece - is missing. You can just imagine the stones to either side simply sliding off into the river below. BUT with the keystone in place you can see how all the stones would be wedged together. What happens here is that all the vertical load you are putting onto the bridge (sorry, not making suggestions about your weight) is being translated into horizontal force at the ends of the arch. This is why you need something strong at either end to stop the arch from spreading.
We at arrive at last at this week's MYTH-BUSTER.
You remember this scene from The Fellowship of the Ring?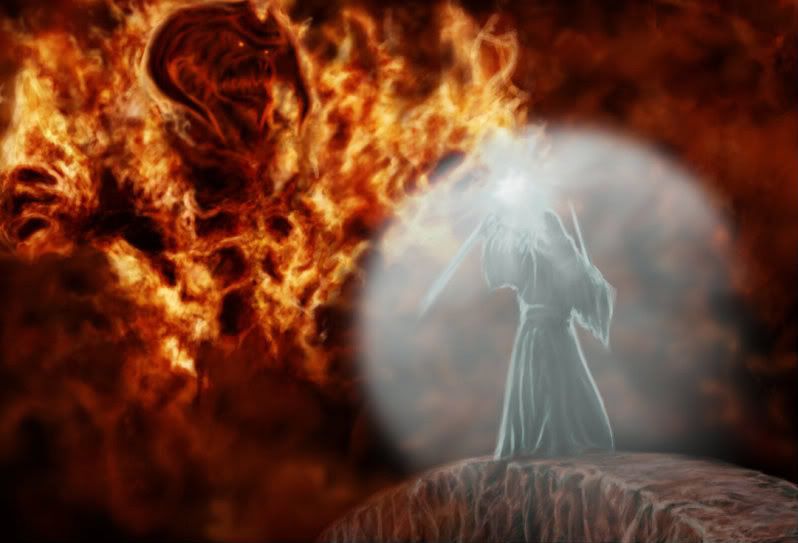 Gandalf is standing on the centre of the span, right on the keystone, facing down the Balrog. "You" he says. "Shall," he continues. "Not," he adds. "Pass!" With that he strikes the bridge and half of it collapses under the feet of the Balrog. Impossible! Either the whole bridge collapses or none at all. A more realistic version would be for the whole bridge to have collapsed taking both Gandalf and the Balrog into the abyss. Gandalf's final shout of "Fly you fools!" as he plummeted would have been even more poignant. It might not have made as good cinematics, but it wouldn't have made the engineer in me shake my head in despair!