The last two weeks have been particularly busy for me, so I have not been visiting blogs very much lately. However I wanted to thank some wonderful friends for give me a couple of awards. But first I want to announce a new award. The problem with the awards that require recipients to pass it on to 7 or 15 people is that if everyone did we'd each be receiving hundreds every week within a month! So instead of passing my awards on, this is an award for just
ONE star blogger
.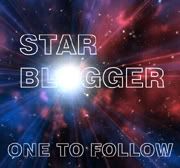 Here are the "rules"
1) Link back to the person who gave you the award and share something about them.
2) Nominate a new recipient and tell them how special their blog is to have been singled out for this exclusive award
3) Share ONE thing that makes you laugh, ONE favourite thing and ONE place you would like to visit
So the very first recipient of this award is ....
Madeleine
at
Scribble and Edit
Madeleine's blog is always a pleasure to visit. Her posts are creative and entertaining, with great graphics and well laid out. Blogging is all about give and take and Madeleine puts so much energy into other people's blogs. That is why Madeleine is the first Star Blogger.
Now, onto my awards :)
So all I have to do now is reveal 7 things about myself:
1) I bought our first house before my wife had a chance to see it. It was a wreck and took us a year to make it habitable. I think she forgave me!
2) I used to play the flute, until I sat on it.
3) My favourite colour is red
4) My great great great grandfather was the son of the dutch widow of a german, who was then adopted by her second husband Alexander de Mattos, whose father, a Portuguese count, fled to South America during the Peninsular War
5) As a (young) teenager I was hugely excited to see Mars hanging large and red low in the evening sky ... until my Mum told me is was just a "harvest moon". Ah well.
6) I have been singing in a church choir since I was nine (with a six year gap in teenage years). Twenty five years of which have been in the same church.
7) I started making cakes when I was seven. Whilst making my very first cake I managed to "fold" the mixture onto the floor. Oh well - I spooned it back into the bowl, no harm done!
Engineering for Writers will be back next week, when life is a little less hectic!