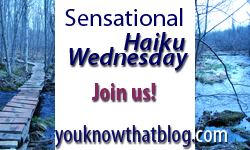 Wednesday again!
So, today's theme for Haiku Wednesday at
youknow...thatblog?
is
Preparation
Hang up the stocking.
Sherry, mince pie, carrot, note.
Bed before midnight.
What you don't know is that it is gone midnight and I fell asleep mid haiku!
Edit: which is why I had to change the last line this morning because I realised that I couldn't count in my sleep befuddled state.