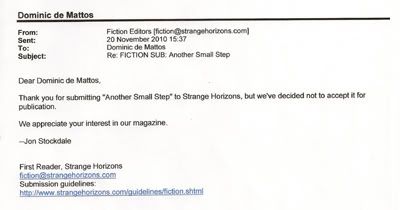 So there you have it - my first rejection.
I reckon that makes me a
real
writer!!
Perhaps you can help?
I need to find a magazine which appreciates a lighter touch than the rather gritty dramas you usually find in SF magazines - any ideas?
You can help in another way too.
How would you pronounce "Mikal"? With a long i or a short i?
How would you pronounce "Anwe"
I ask you because of a difference in opinion at home and it seems to me that the pronunciation affects how the characters are viewed!