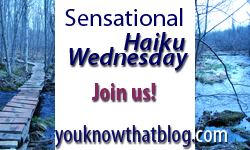 Come join the fun!
This week's theme is "Direction"
I am assuming that the strict interpretation that a Haiku must contain one season word and one cutting word is not necessary for this bit of fun. Do others think that the last line should be a seemingly independent statement that somehow sheds light on the first two lines?
Traffic jams caught by
Satelite navigation.
Dreams of the seaside.
Caught in the headlights
Bright white lines glow in the dark.
Blindly I follow.