| | |
| --- | --- |
| | If you are looking for today's Microfiction Monday it's HERE |
HAPPY VALENTINES DAY everyone!
To celebrate I am entering the
Just Kiss Already
Blogfest
Back in January I shared a moment when Mikel and Krissa so nearly kissed. (If you want to know more - read it
here
). Well many adventures befell them before they were finally re-united at a mother of all magical showdowns with the great evil. We join them in the moments after the evil is banished ....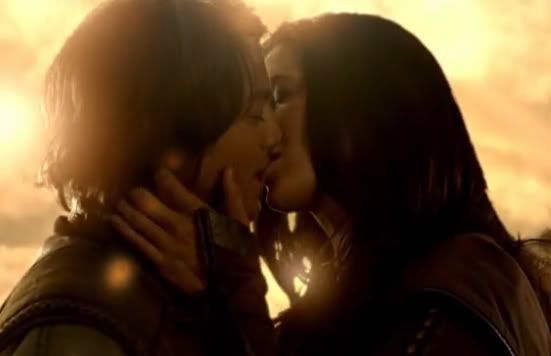 The great cavern was plunged into utter darkness as the impossible light faded to nothing. Mikel lay gasping; pain wracked his abused body, blood oozed from dozens of cuts and abrasions. A grinding agony in his leg warned him against trying to move. Had anyone survived the conflagration? He thought of his companions, those who had stuck with him to the bitter end, who had given their all. Were they all dead?
"Krissa!" he cried out into the darkness, his heart wrenched with pain deeper than any wound that lacerated his body. He had crossed the world to find her, had faced down a Great Spirit in all his wrath for her; there was nothing he would not have endured for her and he could not bear to lose her now. His breath came in great tearing sobs. "Oh, Krissa."
"You were right about one thing," a soft voice murmured next to him.
"Krissa!" he exclaimed and tried to sit up, but the excruciating pain forced him to lie still. He felt her cool hand on his face, her thumb stroke the wetness on his cheek, her finger tips brush his lips.
"You
have
been a fool, worse than a fool, and I love you," she whispered, her breath hot upon his cheek.
Then her soft lips were on his own, and all his longing, his desire, his need welled up from the depths of his soul into the ecstasy of the moment. Everything else was forgotten in that instant when the universe pivoted about the yearning love that fed the passion of their kiss.