The Blogfest has landed!
Click here to go to the most up to date picture links to all the entries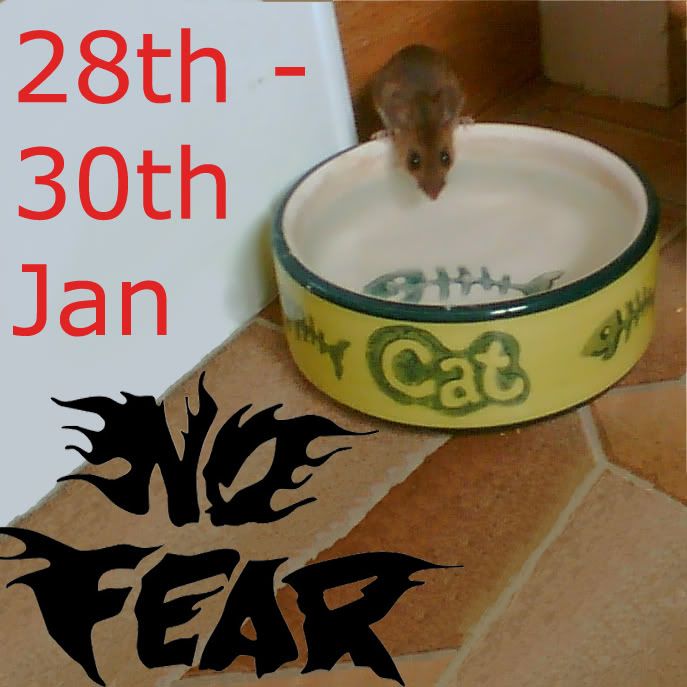 To celebrate passing 100 followers, I am holding my first Blogfest.
($30/£20 to be won - read on!)
Please help yourself to this amazing Blogfest Button (This is a little mouse that moved in while we were on holiday, despite us having two cats!)...
Simply Click on Add Gadget in Design view, then choose HTML/Javascript, then paste the above code into the window. That's all there is to it! Thank you so much.
NO FEAR BLOGFEST
What?
Post a passage in which your MC (or your favourite fictional character) shows their
bravery
. It might be in the face of physical danger, or peer pressure or personal sacrifice. It might be epic bravery or bravery that goes unnoticed by anyone but us, your devoted readers.
I cheerfully admit that the blogfest is mis-named! Bravery is not the absence of fear - that is recklessness. Bravery is overcoming fear, or doing what is right despite the fear.
Who?
YOU! You know you want to.
How much?
Your entry can be as long or as short as you want, although spare a thought for those who want to read all the thousands of entries!
When?
If you think you might be interested in taking part sign up to Mr Linky below
NOW
and then when you have posted your entry send me an e-mail (Dominicdem(at)gmail(dot)com), or comment below (preferably by 4pm EST - 9pm GMT). I will create a new super-dooper link to your actual post. I will choose 6 finalists for a public vote sometime after 12pm EST on Sunday 30th Jan. (Exactly when will depend on how many entries I have to choose from!) Voting will be open for 7 days.
Why?
Because you are awesome?
Of course
Because you want everyone to see how awesome your MC is?
Definitely
Because there is a prize of
$30 / £20
in Amazon vouchers to be won!
Now we're talking!
Here is the Mr Linky linky thing ...
Good luck - I am
so
looking forward to reading your wonderful entries!
If you blog about this blogfest and/or add my Blogfest button to your sidebar you win nothing other than my undying gratitude!