Today is the
New Creations
blogfest courtesy of
Summer Ross
. Thank you Summer!
The rules are simple: Choose your favourite last line from a story you wrote last year and a brand new sentence to start something new.
Here is the last line from last year's story (its not so much my favourite line, as my only line! I only completed one story last year. Not a good record! Taking part in Wri1Sub1 should fix that!) It is a science fiction short story and our hero has been trapped by unknown beings.
"No, we are not legion. We are so much more."
Brand new line:
"When he awoke, he was unquestionably a woman."
In this science fiction short story (I have daydreamed about but not started) our hero wakes up in hospital unable to remember who he is or anything at all about his life, but is absolutely sure he is not in the right body!
Now onto the
Sensational Haiku Wednesday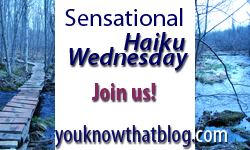 You know ... that Blog?
Today's topic is
Resolutions




Indelible ink
Pins down our aspirations
Just for a few days





Committee meetings
At last a resolution
Vote for a tea break





Tonal consonance
Accidental harmony
Creating a chord